| | |
| --- | --- |
| Lange Nacht der Forschung | Long Night of Science |
Wien, Universitätssternwarte, 28. 04. 2012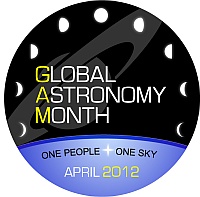 Zur Langen Nacht der Forschung wurden wir vom Institut für Astrophysik in Wien eingeladen, ihre Beobachtungsaktivitäten mit einem Team der WAA zu verstärken.

Als wir um 18 Uhr eintrafen, ging gerade die Sonne hinter den Bäumen des Parks unter und die Sonnenbeobachtung damit zu Ende. Wir bauten unser mitgebrachtes Teleskop neben dem C11 des Instituts auf. Zunächst hielt sich der Ansturm der Leute in Grenzen. doch das sollte sich bald ändern.

The Institute for Astrophysics in Vienna had invited us to support their observing activities in the Long Night of Science with a team of WAA.

As we arrived at 6 p.m. the sun was just setting behind the trees of the park and observations of the sun had ceased. We built up the telescope we had brought with us next to the Institute's C11. At first only few people found their way to the terrace, but this should change soon.

Das Gebäude der Sternwarte im letzten Sonnenlicht
The last sunlight on the observatory building


Aufbau des Teleskops auf der Westterrasse, neben dem Radioteleskop
Putting up the telescope on the western terrace, next to the radio telescope

Warten auf Besucher
Waiting for visitors


Und hier gibt es die ersten Blicke zum Mond
And here the first look at the Moon
| | |
| --- | --- |
| Mit einsetzender Dämmerung wurden der Andrang im Haus und bei den beiden Teleskopen auf der Westterrasse immer dichter. Zunächst wurde Venus und Mond beobachtet, später kamen Mars und Saturn an die Reihe. Saturn erwies sich als wahrer "Kassenmagnet" - geduldig warteten die Besucher in zwei lange Schlangen auf ihren Blick zum Ringplaneten. Auch am großen Refraktor und in der Westkuppel wurde beobachtet. | As the sky got darker the crowds in the building and at the two telescopes on the western terrace got bigger and bigger. Venus and the Moon were the first objects, followed by Mars and Saturn. Saturn turned out to be the big draw - patiently the visitors waited in two long lines for their personal look at the ringed planet. The big refractor and the telescope in the western dome were available for public observation as well. |

Die Krater des Mondes faszinieren
The Moon's craters are a fascinating sight


Gar nicht so leicht, der erste Blick durch das Okular
Not easy, the first look through the telescope's eyepiece

Die Schlangen werden länger
The lines are getting longer


Alle wollen den Saturn sehen
Everyone wants to throw a glance at Saturn
| | |
| --- | --- |
| Wir haben nicht mitgezählt, aber sicherlich waren an diesem Abend viele hundert Besucher bei den beiden Teleskopen auf der Westterrasse - und das war nur ein Teil der gesamten Besucher am Institut für Astrophysik. Eine absolut gelungene Veranstaltung, bei der wir sehr gerne mitgeholfen haben. | We did not count, but I am sure, several hundred people visited the two telescopes on the western terrace . and that was only part of the visitors who came to see the Institute for Astrophysics on this evening. It was a highly successful event and we really enjoyed being part of it. |
Text: Anneliese Haika, Bilder: Alfred Kramberger, Thomas Schröfl.
Wiener Arbeitsgemeinschaft für Astronomie.
www.waa.at