June 17th 2001
On the road again ...
Today we have a long trip of 400 miles ahead of us. We will get close to the border to Zambia. So we get up early and are enchanted by the view of the Moon and Venus below it. We simply have to have a look through the telescope. Details can be found here in German.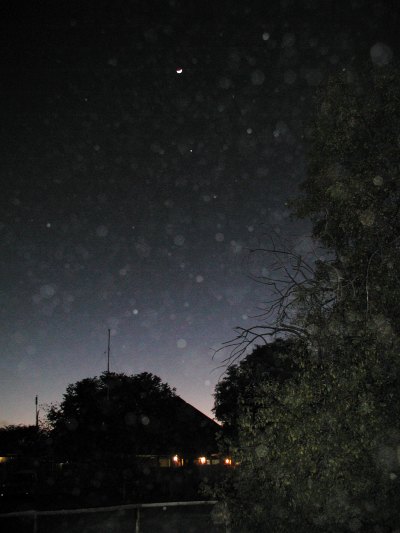 The Moon and Venus over Camp Audi in Maun, Botswana.
The day of the eclipse is not far ahead ...
Then the endless journey on the Trans-Kalahari-Highway begins ...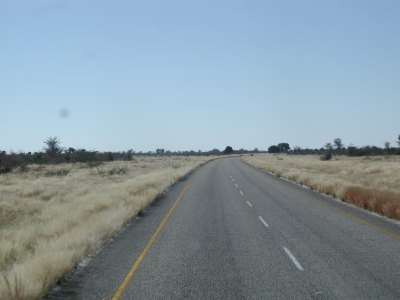 We're on the road again ...

Hour after hour the same view: the endless horizons of the steppe.
In the afternoon we reach our last camp in Botswana, in Kasane at the river Chobe near the border to Zambia. In the evening we have romantic campfire atmosphere again, but this time with a little bit of astronomy mixed in. After all, the day of the eclipse is coming nearer.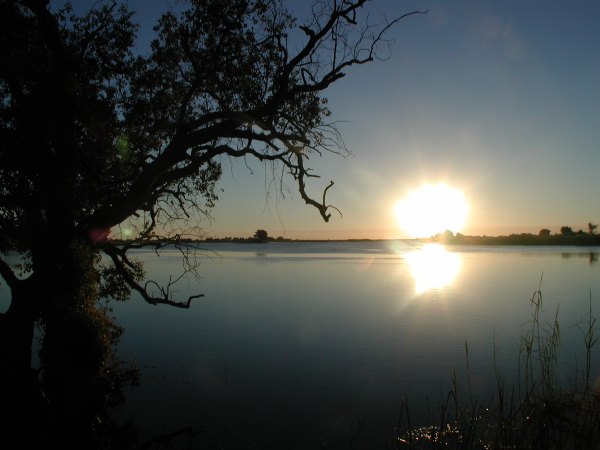 Sunset at Chobe River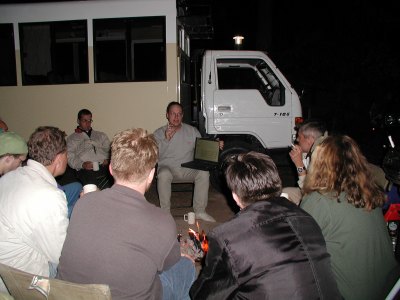 Solar eclipse seminar at the campfire. Everything is possible in Africa.
After the theory of solar eclipse, we also do some stargazing - in safe distance to the river, where a hippopotamus in a bad mood gave us quite a fright. Today we want to roam through the Milky Way in the constellation of Sagittarius. We want to see those areas which cannot be seen well from Austria. Here this part of the sky is almost in the zenith. Detailed observation report in German: click here. .

[ back | Start | Tour | Team | Astronomy | Acknowledgements | next ]